Taylor Swift Eras Tour, Coming To Our Theaters
Taylor Swift's impact on this generation cannot be understated. For Pete's sake, she rereleases old albums and they sell like hot cakes, not to mention she's only 33. This year though, 2023, Taylor has been hitting grand slam after grand slam, as she travels city to city for her legendary – sold out – Eras Tour. Luckily for us fans who couldn't squeeze into that stadium near us, Taylor is having a cinematic release of her tour, in theaters near you, very soon!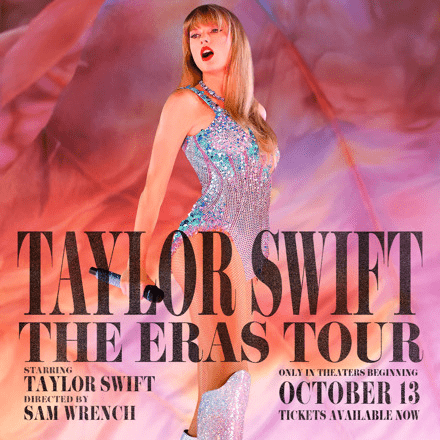 Hitting cinemas on October 13th, the Eras Tour movie is already bringing in numbers, and it hasn't even touched screens yet. Apparently pre-sale tickets record, set by Spider-Man: No Way Home has already been broken by the Swifties with this new announcement. Woah.
If this fan frenzy furthers, it's quite possible this TaySwift: Eras movie will hold the world record for top grossing concert film, very soon. Doing so would dethrone Justin Bieber's 2011 Never Say Never tour movie.
There's no doubt that the Jersey Shore has an immense number of Taylor Swift fans, I mean, did you hear what happened when she came to LBI??? So yes, getting some good tickets to even see the movie will be a bit tough at first…. Or will it?…. Ha!
Stay tuned in to B985 to win your way in to a special opening night screening!
Plus, we'd be remise not to mention that Marquee Cinemas, in Toms River, will have them too! 🙂